Post by Roosevelt on Aug 8, 2019 9:54:41 GMT -5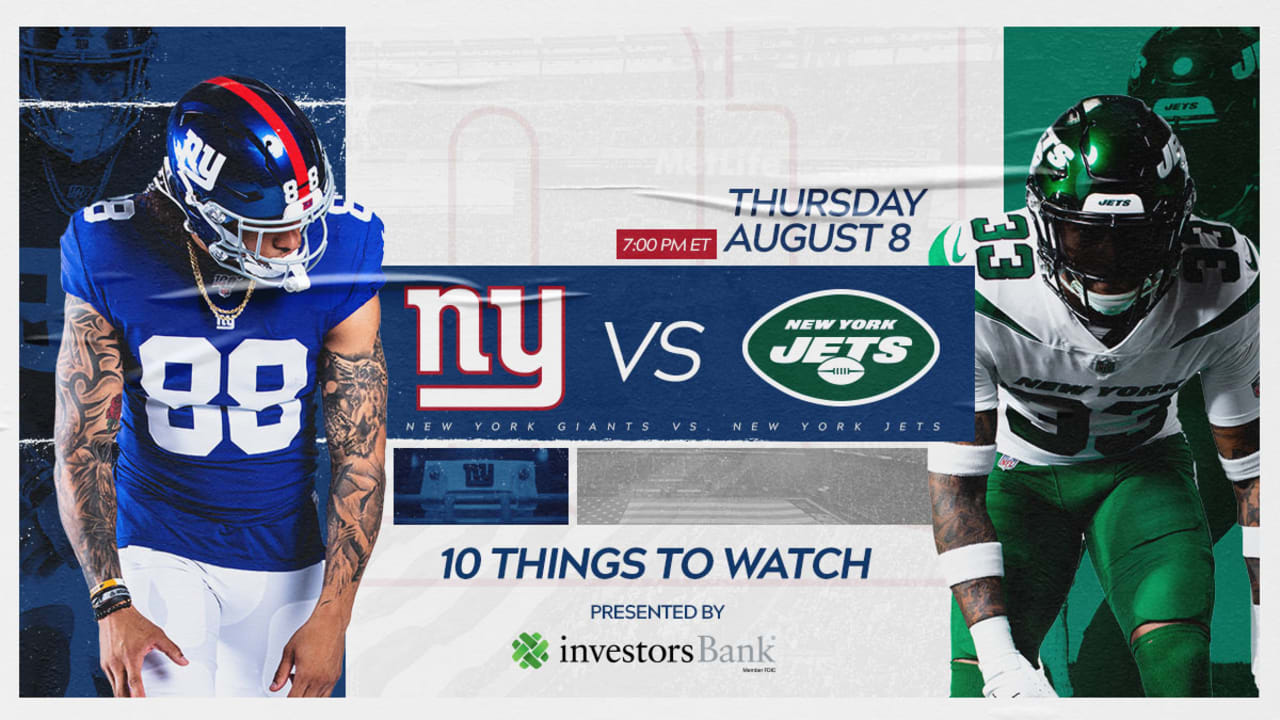 1. Kicking off 2019. Fifty years after they first played each other in a preseason game, this is just the third time the Giants and Jets have met in a preseason opener. They also did so in 1983 and 2010, the latter in the first NFL game in MetLife Stadium. This will be the 51st consecutive summer in which the Giants and Jets will meet since the series began in 1969. The Giants have won the three previous preseason meetings, including 22-16 last year.

2. Playing time. Pat Shurmur did not disclose who will and will not play on Thursday night, but did say that "a few guys that are healthy and have been practicing may not play." Does that mean Eli Manning? "We'll let that all reveal itself," said Shurmur, who rested the quarterback in the second and fourth preseason games last year. Running back Saquon Barkley played only the preseason opener as a rookie.
Related Links

3. Jones to debut. One player who will for sure see the field, Shurmur said, is rookie quarterback Daniel Jones. He has been practicing with the second team, followed by Alex Tanney and Kyle Lauletta. "I'm excited," said Jones, the sixth overall draft choice. "I think it'll be a whole lot of fun to just run out there for the first time and kind of be part of the scene, be part of an NFL football game. So, I'm excited, I'm looking forward to getting out there."

4. Depth chart. The Giants have released their first depth chart ahead of Thursday's preseason opener against the Jets. As always, it is subject to change. It simply serves as a guide, more so for the media than the coaches. Check it out HERE.

5. Injury report. The team will release a "did not play" list later tonight, but the following players have missed time or were limited this week in practice: WR Darius Slayton, CB Sam Beal, OT Brian Mihalik, OT Chad Wheeler, OLB Avery Moss, OT George Asafo-Adjei. WR Sterling Shepard (broken thumb) and CB Grant Haley (shoulder) have been practicing while wearing a non-contact yellow pinny.


6. Standout rookies.
Defensive lineman Dexter Lawrence and cornerback Corey Ballentine have turned some heads this summer, and Thursday night will be their first time at an NFL game. Neither has ever seen one in person.
"The first impression is the best impression kind of deal," said Lawerence, a first-round draft choice who grew up a Giants fan. "No stress, it's just go out there and play football. It's what I've been doing all my life."
"I lived in Kansas and I had Kansas City, which was in Missouri," said Ballentine, selected in the sixth round of the NFL Draft. "But I was never really a big fan, so I never went to the games. I don't really know why I never went to a game, actually. I never really got the chance. But I'm excited for (Thursday)."
7. Competitions heat up.
Thursday night is one of four major auditions for starting job and roster spots as the 53-man roster must be finalized by 4 p.m. on Aug. 31. The competitions at center, wide receiver, and cornerback are among the ones to watch. Jon Halapio is currently with the first team at center, but the Giants also feel confident with Spencer Pulley. Given the absences at wide receiver, players like Cody Latimer, Bennie Fowler, and Russell Shepard have seen increased reps. In the secondary, Grant Haley and Antonio Hamilton are listed as second-team cornerbacks behind Janoris Jenkins and DeAndre Baker.
8. New P.I. rule.
A major storyline of the preseason around the NFL is the new rule that made offensive and defensive pass interference subject to review. Coaches can now challenge those calls outside of the final two minutes of each half. Inside of two minutes, they will be subject to a booth review. It was put to use for the first time in the Hall of Fame Game as the Broncos challenged a pass interference penalty called on their defense. The call was upheld.
"I really do believe that we all want to get it right," Shurmur said. "This is going to be talked about a great deal. It's going to have an effect on some games, so I think in the preseason, it makes sense for all of us to, every once in a while, throw one just to see what the response is."
9. Classmates.
Giants running back Saquon Barkley and Jets quarterback Sam Darnold were drafted second and third overall, respectively, in the 2018 NFL Draft. The college superstars played against each other in the highest-scoring Rose Bowl in history as Penn State and USC combined for 98 points. Barkley had 194 rushing yards, 55 receiving yards, 57 kickoff return yards, and three total touchdowns in the 2017 game.
10. See ya later.
Of the Giants' four preseason opponents this year, they will see three of them again in the regular season. They play the Jets in Week 10, Patriots in Week 6 (Preseason Week 4), and Bears in Week 12 (Preseason Week 2). The Giants lead the all-time regular-season series against the Jets, 8-5, including five consecutive victories between 1996 and 2011. The Jets' 2015 overtime victory was their first over the Giants since 1993.